All Ears Audiology, Inc.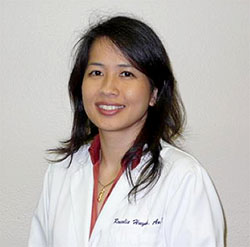 Rosalie Huynh AuD, FAAA, CCC-A Doctor of Audiology
Dr. Huynh has been helping adults and children in the field of audiology for over 26 years. She earned her Bachelor and Master's Degree in Communicative Disorders (specialing in Audiology) from California State University, Long Beach and her Doctorate in Audiology from the University of Florida.
Dr. Huynh is just as comfortable helping the pediatric population from neonates in the hospitals to the geriatric population in different environments, diagnosing and improving their hearing and balance disorders. Through testing and counseling, she works with her patients to help them develop a successful and individual hearing plan to improve their quality of life. If you or a loved one has any questions regarding a hearing loss issue, please give us a call.